Honkay
Portable 4 Handle Build Muscle Stimulate Sculpting Slimming Body Sculpt Hiemt Ems Machine
Specification:
Product name: HIEMT+EMS machine
Function: Muscle building, Body contouring, Fat burn
Color: White
Keywords: Weight Loss Machine
Treatment area: Body Legs Arms
OEM&ODM: Support
Technology: High-Intensity Electromagnetic Muscle Trainer
Certification: CE
Energy: 7 tesla
Service: OEM/ODM/24-hour Online Service
Application: Beauty spa, Fitness center, For Commercial
Delivery time: 3-7 working days
Product Description
Working Theory of HIEMT EMS machine
HI-EMT: designed for aesthetic purposes, having 2 handles with higher intensity.
It's cutting-edge technology in non-invasive body contouring, as it not only BURNS FAT but also BUILDS MUSCLE.
EMS: Heat uniformly for the treatment area, so that the subcutaneous fat quickly reaches the treatment temperature, achieving the dual effects of firming and dissolving fat.
Features and Benefits :
1.
Builds muscle & Burns fat Together
2.
Non-invasive buttock lifting procedure
3.
Suitable for everyone -No anesthesia - No surgery
4.
Only a 30-minute walk in walk procedure
5.
Only 4 sessions are needed 2-3 days apart
6.
Feels like an intensive workout
8.
Instant results but gets better after two to four weeks
9. 16% average increase in muscle mass
10. 19% on average fat reduction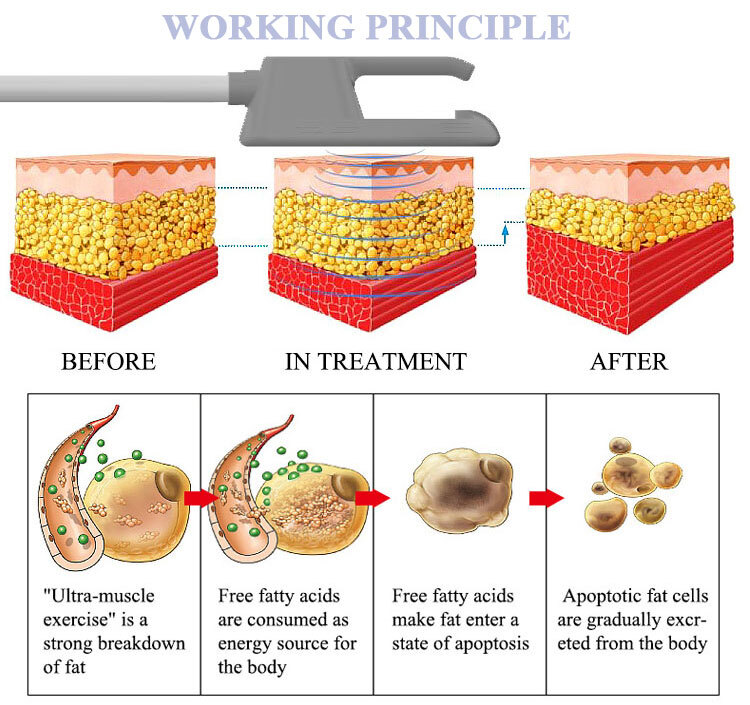 Treatment result
A single HIEMT and EMS session causes thousands of powerful muscle contractions which are extremely important in improving the tone and strength of your muscles.
According to clinical studies, patients had an average of a 20% reduction in fat and a 1.5-inch average loss in waistline measurements following a series of 4 HIEMT and EMS treatments.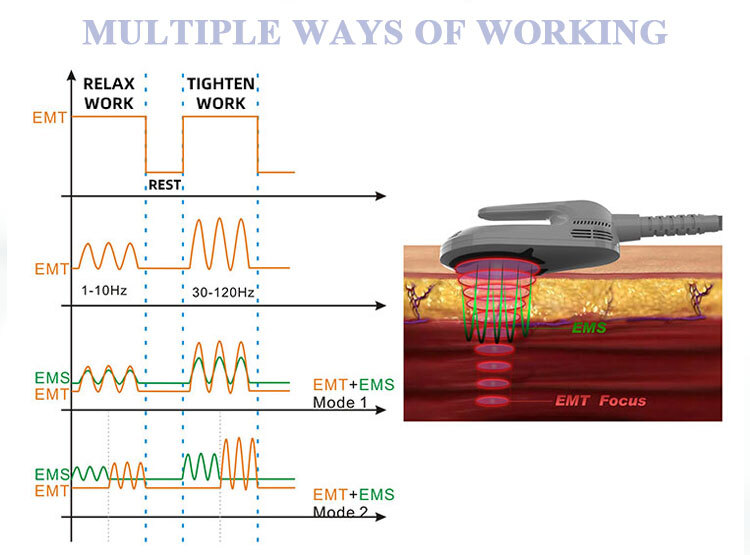 HIEMT & EMS
The healing effect increased by 50% Due to EMS heating, muscle temperature rises rapidly by several degrees.
This prepares the muscles for exposure to stress, much like a warm-up activity before any workout.
In less than 4 minutes, the temperature of the subcutaneous fat reaches levels that cause apoptosis, that is, the fat cells are permanently damaged and slowly eliminated from the body.
Clinical studies have shown on average a 30% reduction in subcutaneous fat.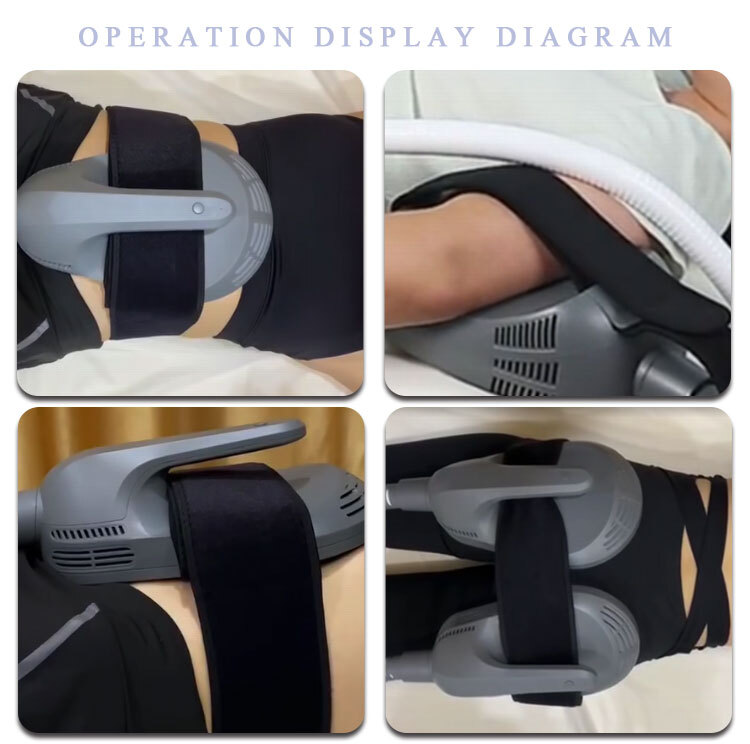 Advantage
The latest air cooling technology.
No water cooling makes the equipment safer and longer service life.
There is a refrigeration system in the host Fight with waterways and circuits High pressure and low-pressure separation Water circulation cooling + fan cooling.
The inside of the handle is cooled by water circulation The internal coil increases the heat dissipation area of the water circulation.
There is no electric circuit in the handle, so there is no water and electricity intersection, and no water and electricity leakage.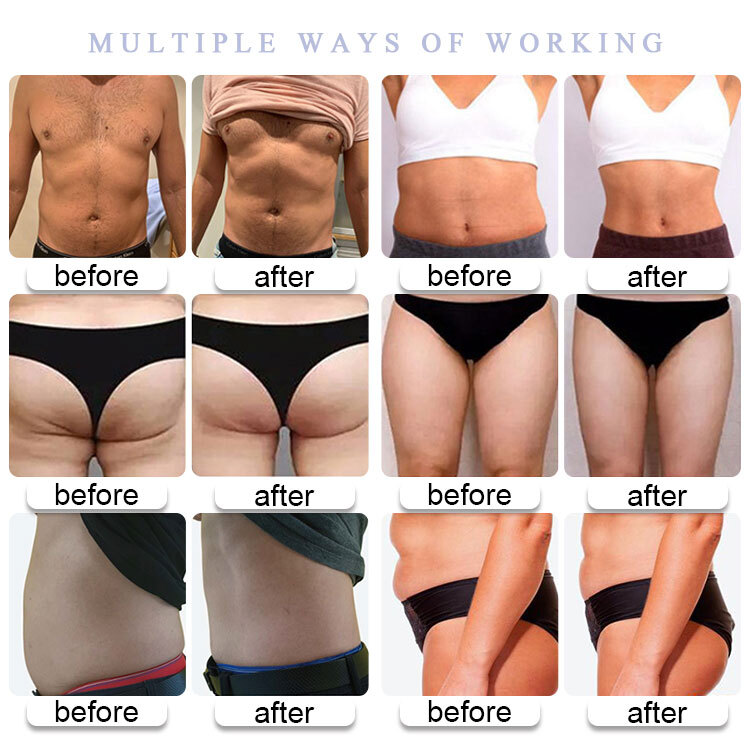 Features of hiemt ems machine
1. 4 working heads, plus working heads for arms and calves, allowing treatments for stomach, buttocks, arms, and thighs and building
2.
Air cooling technology can ensure that the machine works continuously for more than 10 hours without failure
3.
The handle life is extended to more than 6000 hours
4.
Single and double-handle work can be selected at will
5.
Plug-in type, working head design is more convenient and stable
6.
Offer your clients the latest body contouring treatment technology
7.
Just turn it on and let the system do the work for you
8.
Simple and easy-to-use operation
10.
Non-invasive, no downtime, no side effects, and pain-free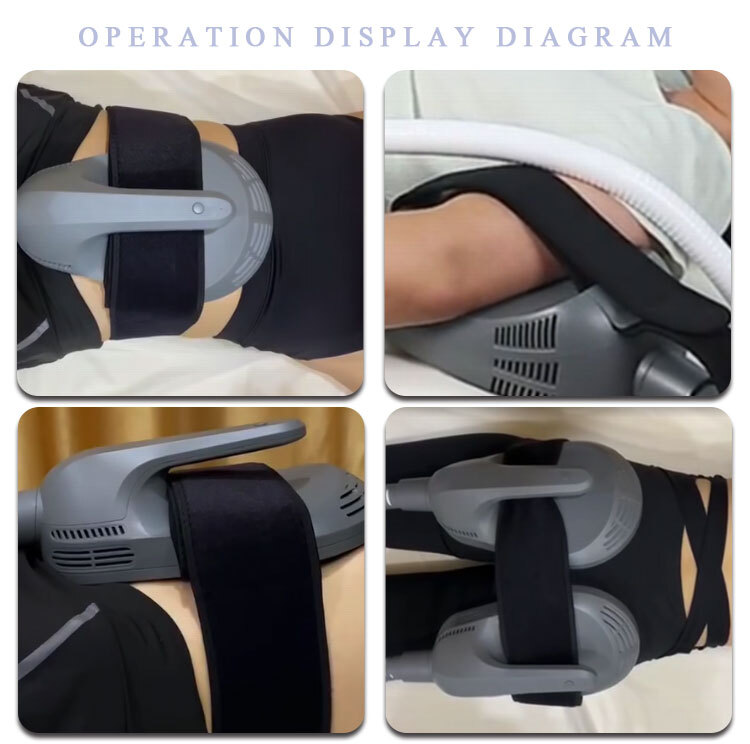 For Body :
2. 4 cm (1.5 inches) loss in waistline circumference
3. 25% increase in muscle mass
4. 11% reduction in abdominal muscle separation (called diastasis recti)
5. 5 x increase in fat metabolism (apoptotic index increased from 19% to 92% after treatment)
6. 80% of patients with visible lifting effect of buttocks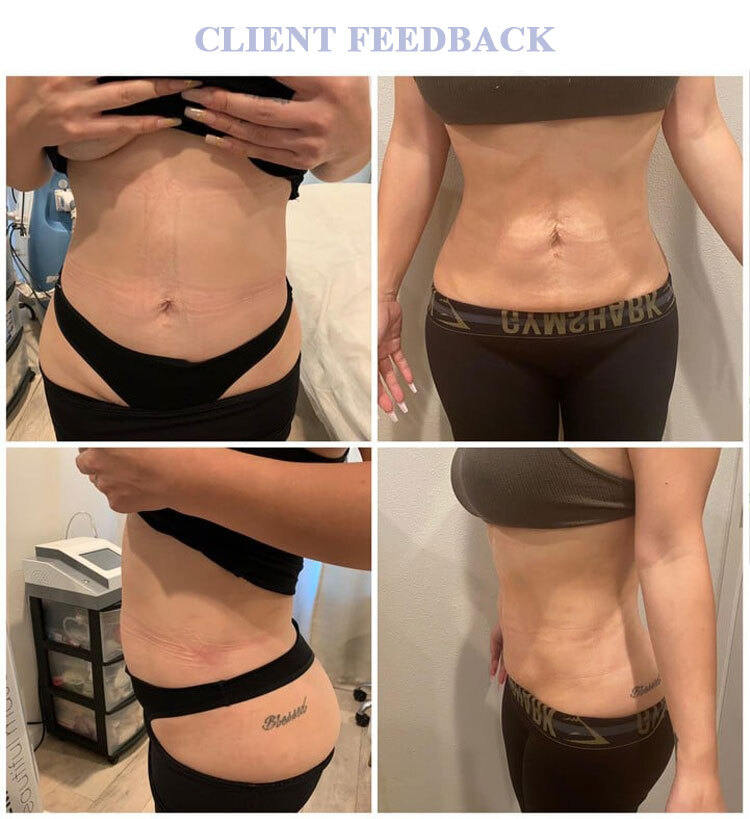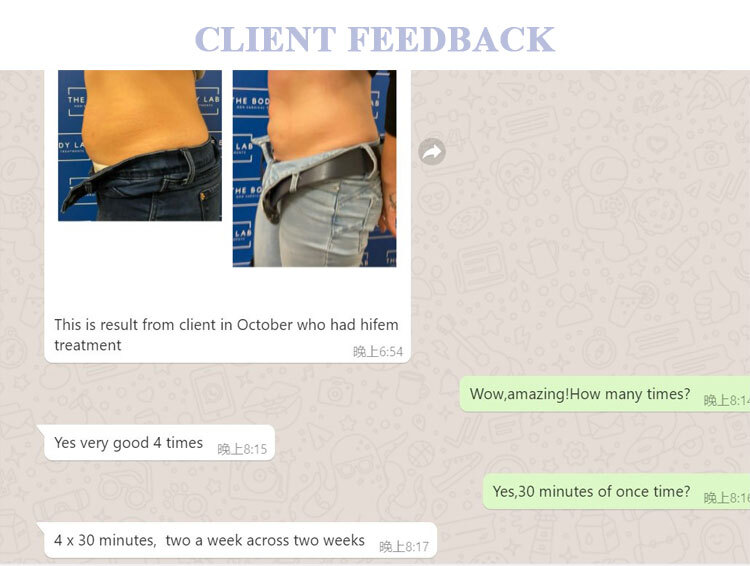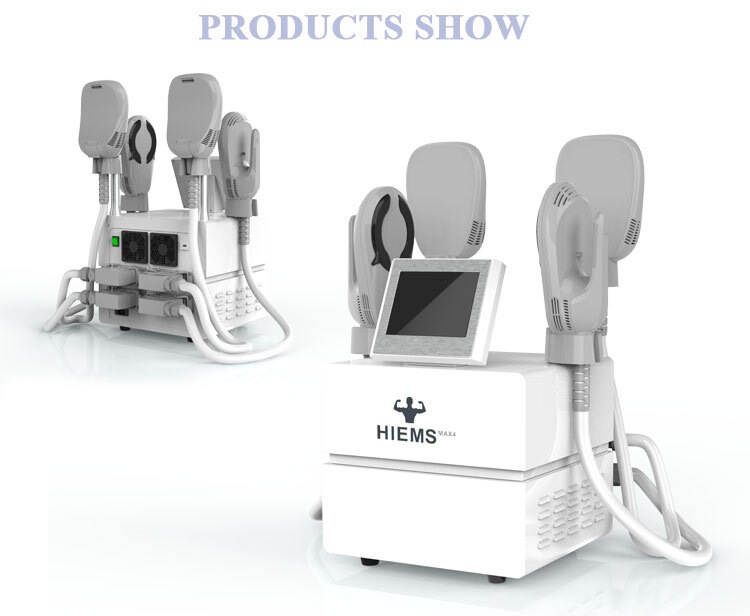 Guangzhou Huangkai (Honkay)Electronic Technology Company Limited was established in 2011, It Is a beauty equipment manufacturer specializing in research, development, production,
sales, and service. In addition, we have obtained CE, EMC, ROHS, LVD, and other certificates. Our products sell well all over the world, such as USA, Germany, Italy, France, Mexico, Singapore, and many other countries and regions.
We have rich experience.
We have 8 technical engineers,80 production workers,30 sales staff, and 5 professional after-sales staff. We welcome OEM and orders to provide different services for different customer needs.
We accept various payment methods such as TT, western union, PayPal, money gram, trade assurance, etc.
The delivery time is generally 3-5 working days after receiving the payment.
We cooperate with DHL, TNT, FEDEX, UPS, EMS, and other international large Cargo companies cooperate and provide a one-year warranty service.
Guangzhou Huangkai sincerely looks forward to cooperating with you!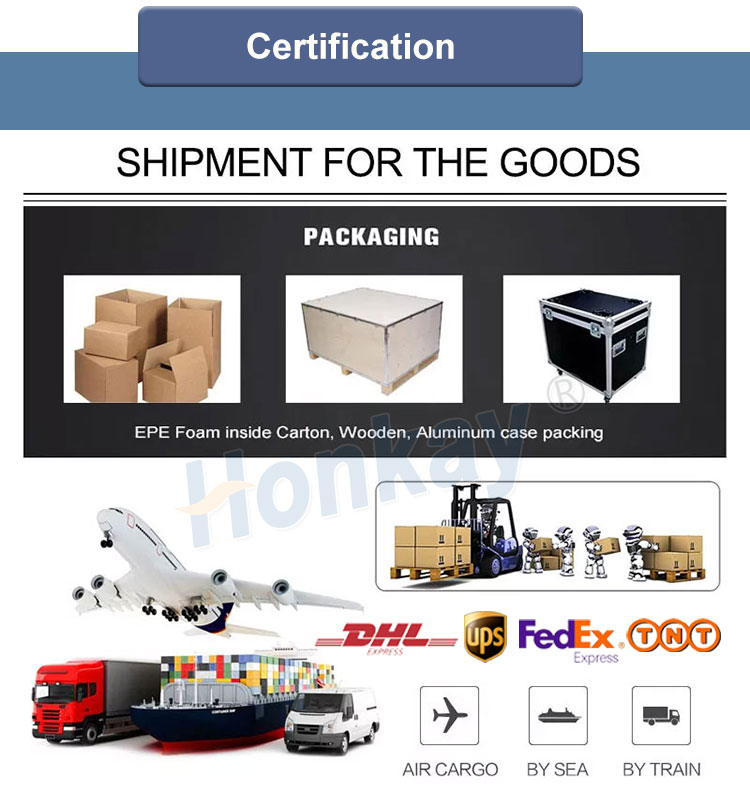 FAQ:
Q1.
How long is the warranty good for?
Q2.
What if any quality problems during the guarantee period?
A2.
We can provide free technical support and software upgrades.
Q3.
Can we print my Logo on the products?
A3.
Yes, you can.
We support OEM.
Q4.
What's your delivery time?
A4.
Within 3-10 working days after receiving your full payment.
Q5.
How many kinds of payment terms do you have?
A5.
We accept T/T, West Union, Paypal, and others.
Q6.
What should I do if I don't know how to use the machine?
A6.
We have an operation video and user manual for your reference, and also we provide you 24 hours online service.
Q7.What are
your transportation modes?
A7: We can transport the goods by air or by sea, it will be based on the customer's requirement.
Your cart is currently empty.