Honkay
5 in 1 7d Hifu MultiFunctional Liposonic 12 Lines Hifu Machine Rf Microneedle Face Lifting Wrinkle Removal Body Contouring Skin Care Vaginal Tightening
Specification
Treatment area: Face Neck Body
Optional cartridge: 6mm/ 8mm/ 10mm/ 13 mm/ 16mm
Product name: 7d HIFU Face Lifting Wrinkle Removal
Function 1: anti-aging, wrinkle removal
Function 2: Body Contouring
Function 3: Vaginal Tightening
Length: 5-25mm (1.0mm step, 20 steps)
Equipped cartridge: 1.5mm / 3.0mm / 4.5mm
Delivery Method: By Air, By DHL/TNT/FEDEX/UPS Express Door To Door, By Sea
OEM/ODM: Professional Design Services With The Most Reasonable Expense.
Suitable for: Beauty salons, skin care centers, spas, etc.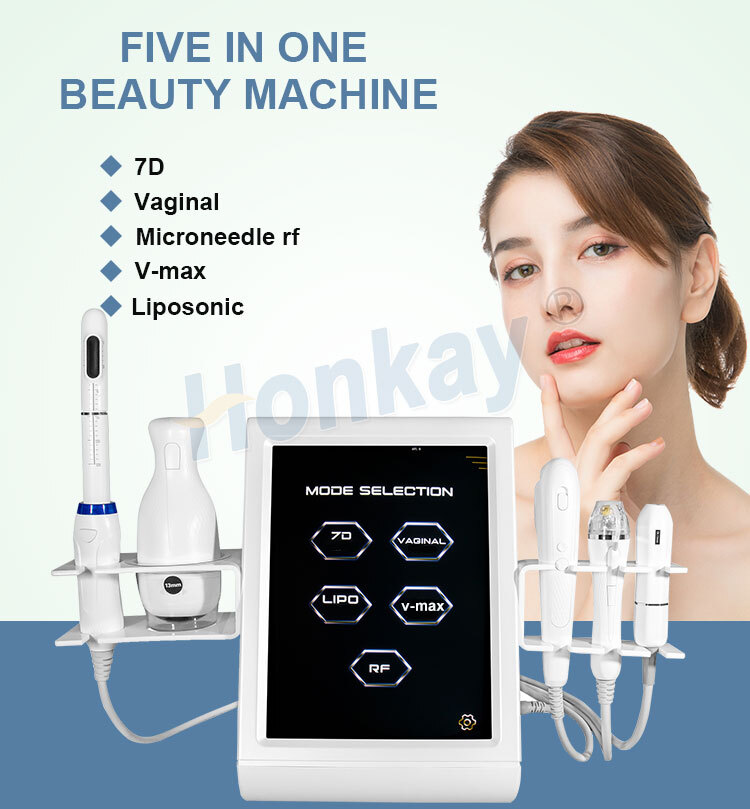 What is 7D Hifu?
The 7D HIFU beauty machine is a more authoritative and
higher-end anti-aging system instrument after the continuous
Thermage Ultrasonic Beauty Machine. This technique has no bleeding, surgery, scars, or trauma. It replaces various effects of
traditional facial anti-aging wrinkle surgery, including face lifting, removing a double chin, lifting firmness, tightening the skin, etc. It completely solves the problem of aging and sagging on the
face and body parts, and recreates the contours to restore
youth! Compared with previous traditional technology effects is more
durable.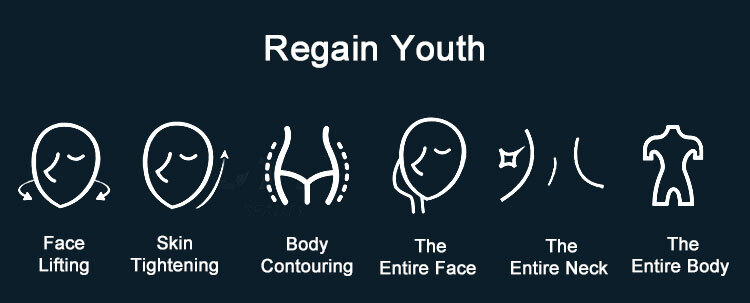 The 7d HIFU machine principle: the 7D Hifu uses probes of different depths (1.5mm, 2.0mm, 3.0mm, 4.5mm, 6.0mm, 9.0mm, 13.0mm ) to accurately focus energy on the epidermis, fascia, and collagen layer; 4.5mm is located in the subcutaneous fascia layer, which produces a protein coagulation reaction, thus producing tension around the coagulation point as the center and exerts tension on the fascia. Muscle layers grow and pull to achieve the best effect of shaping, lifting, and tightening; 3.0mm acts on the subcutaneous collagen layer to stimulate collagen regeneration, which can gradually tighten and improve skin and restore elasticity; facial wrinkles caused by sagging; one operation, comprehensive facial synthesis Pull up and tighten the whole contour.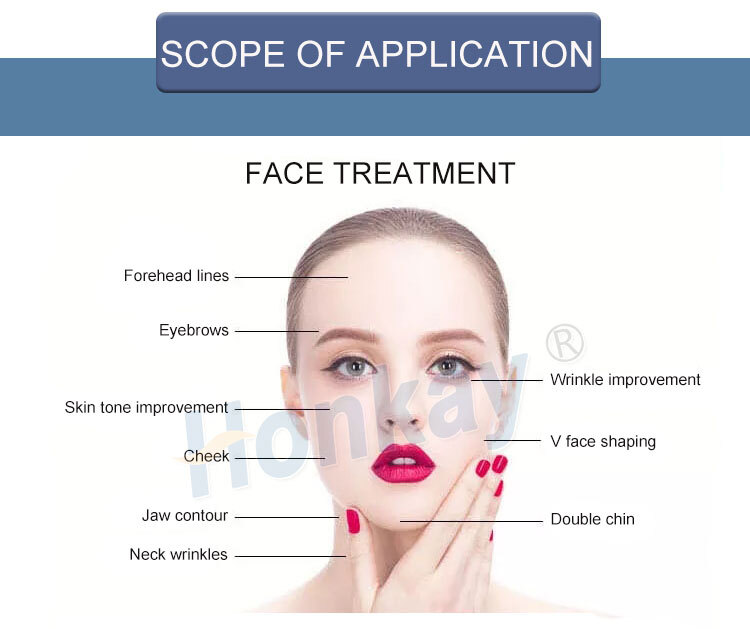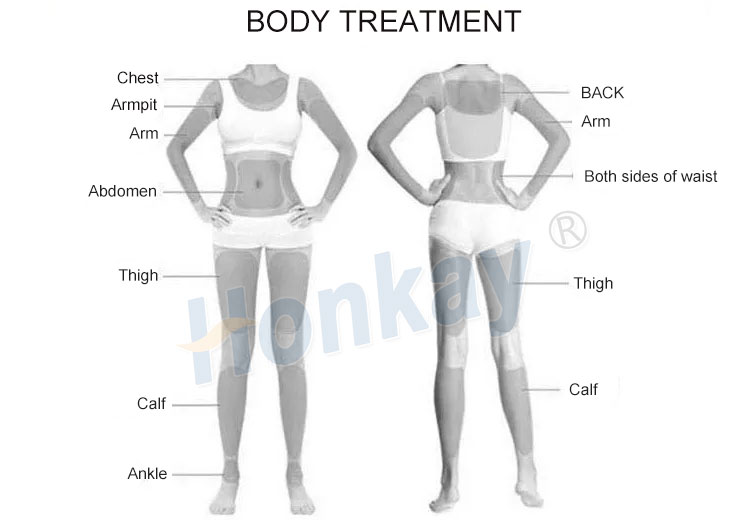 HIFU machine 7d Technology Advantage:
1. Two modes for 7D: manual mode or auto mode can be switched.
2 . 7D: the corresponding parameters can be adjusted according
to the size of the skin area, which makes the operation time greatly
shortened, making the energy point effects on the skin more uniform, and the curative effect better.
3. 7D Using the most advanced high-tech technology, it is equipped
with two treatment heads according to the facial skin condition, which
accurately affects different depths of the skin, and the energy is slightly over the epidermis during treatment, and 100% without any
damage. at the same time, the depth of the skin treated by the
treatment head is consistent with the set value, ensuring the
customer's painless and comfort.
4. In addition to the thermal effect on dermal collagen and collagen
fiber, it also has thermal stimulation on the fat layer and fascia
layer (SMAS), and the therapeutic effect is far better than that of
Thermage.
5. The operation is simple and convenient.
6. The effect of tightening and shaping can be seen immediately after
treatment, which can last for at least 24--30 months at a time, and
achieve negative growth for skin age once a year.
7. Makeup immediately after treatment does not affect normal life
and work.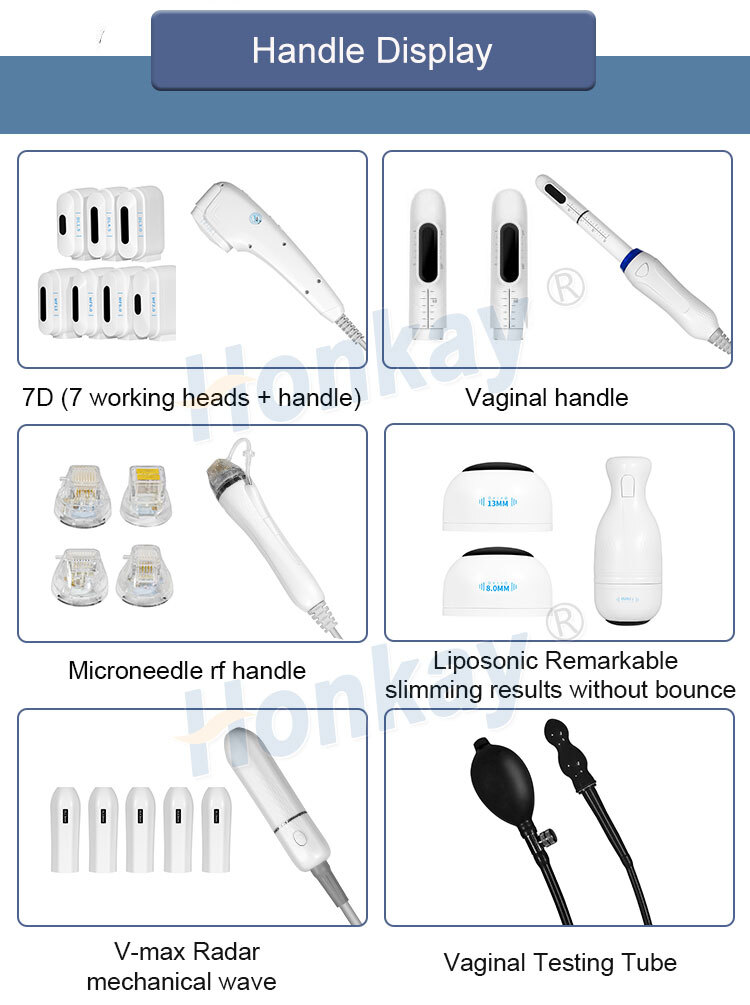 The function of 7D HIFU
1. 4.5mm probe: reach directly to the SAMA fascia layer, and tighten the bottom of the muscle to achieve a firm lift;
2. 3.0mm probe: reach directly to the dermis to stimulate the continuous proliferation of collagen;
3. 2.0mm probe: the world's original treatment head, uses 5.5MHZ patented technology for the eyes and deep lines such as forehead lines, necklines, and crow's feet;
4. 1.5mm probe: aiming at the epidermis to improve superficial fine lines, skin tone, skin texture, and fine pores.
5. 6mm, 9mm, 13mm probe: reducing fat and shaping body, removing orange peel tissue&cellulite, tightening and lifting body skin, chest, and buttocks.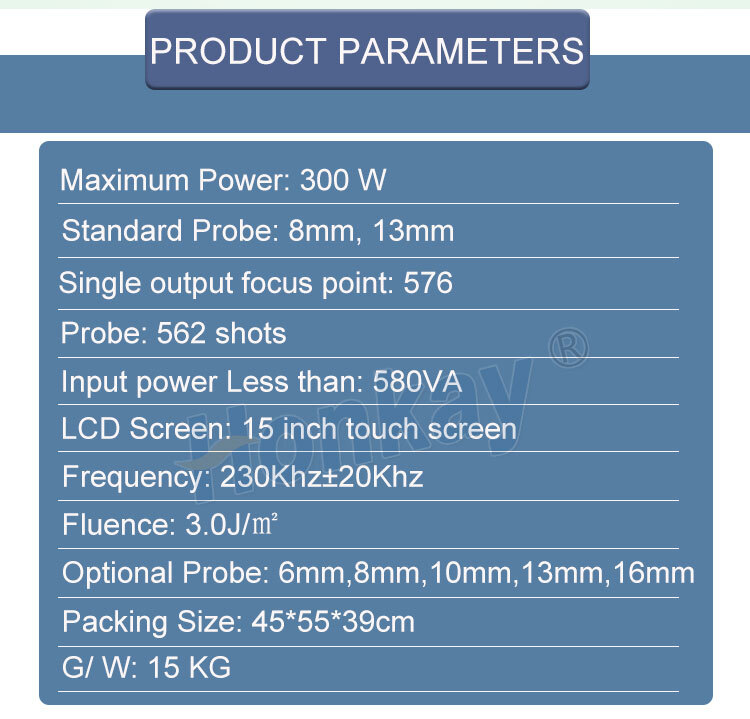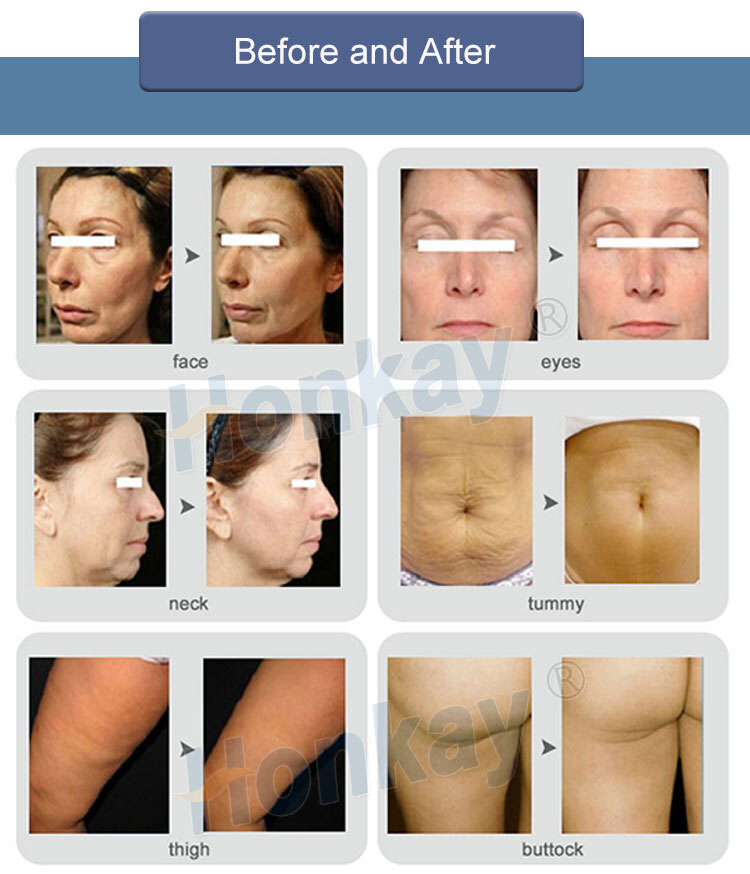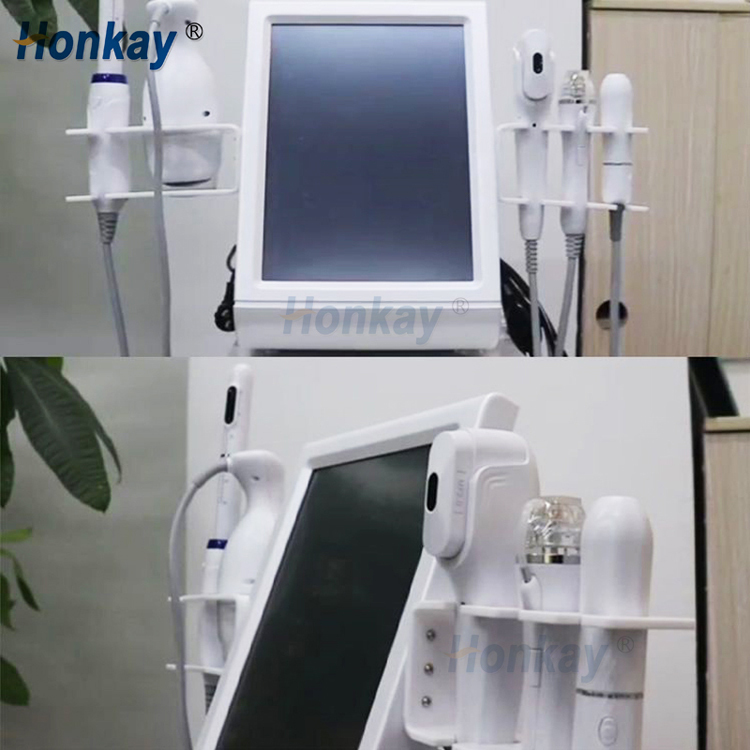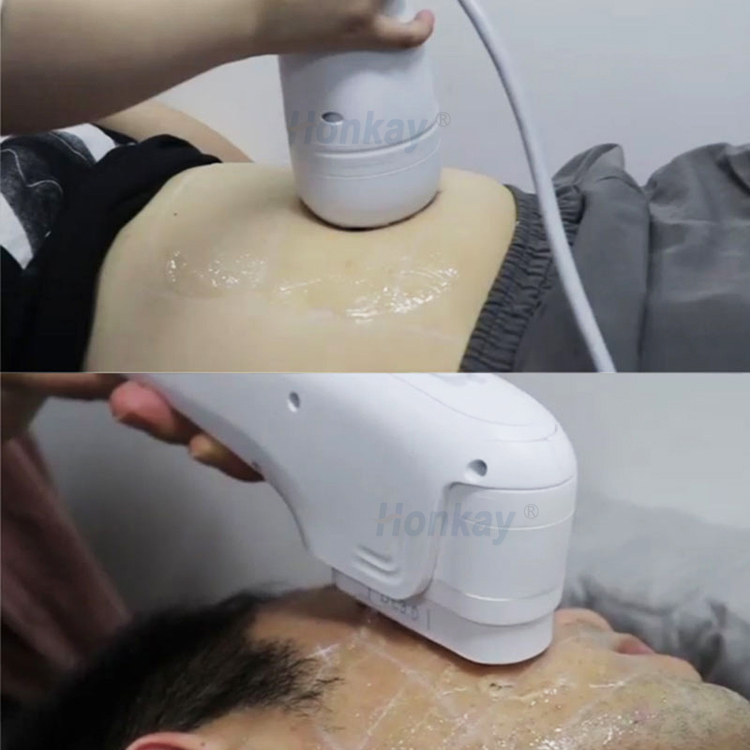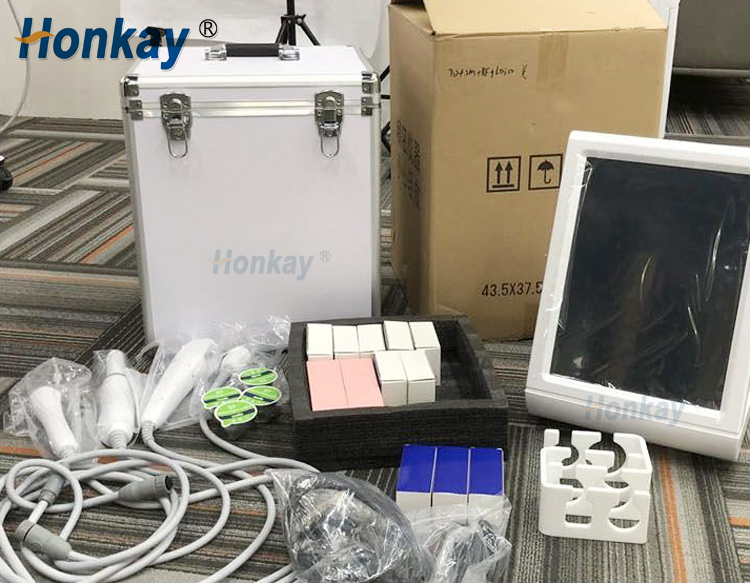 About Honkay
Guangzhou Huangkai (Honkay)Electronic Technology Company Limited was established in 2011,It Is a beauty equipment manufacturer specializing in research, development, production,
sales, and service. In addition, we have obtained CE, EMC, ROHS, LVD, and other certificates. Our products sell well all over the world, such as USA, Germany, Italy, France, Mexico, Singapore, and many other countries and regions.
We have rich experience.
We have 8 technical engineers,80 production workers,30 sales staff, and 5 professional after-sales staff. We welcome OEM and orders to provide different services for different customer needs.
We accept various payment methods such as TT, western union, PayPal, money gram, trade assurance, etc.
The delivery time is generally 3-5 working days after receiving the payment.
We cooperate with DHL, TNT, FEDEX, UPS, EMS, and other international large Cargo companies cooperate and provide a one-year warranty service.
Guangzhou Huangkai sincerely looks forward to cooperating with you!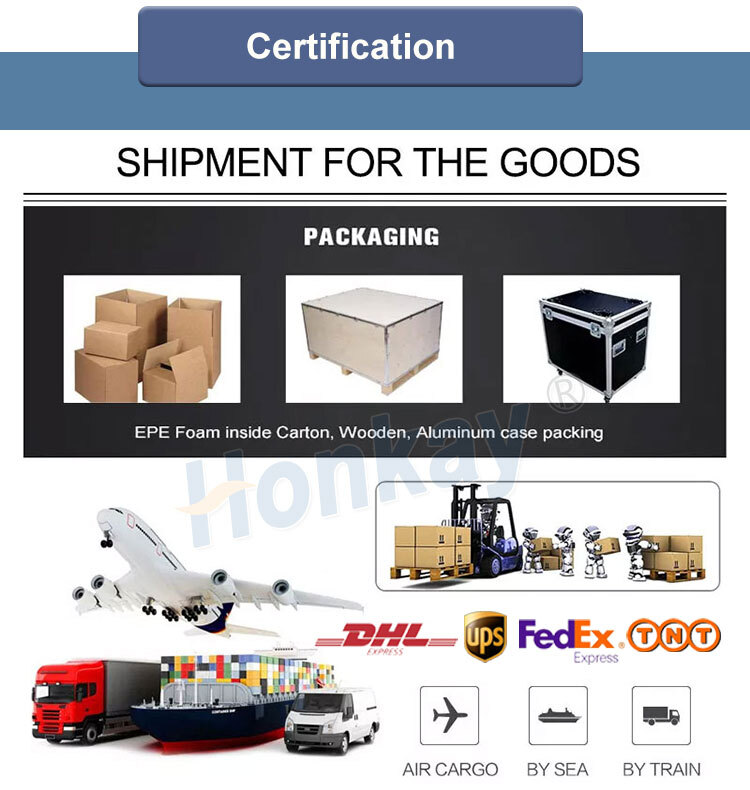 FAQ:
Q1.
How long is the warranty good for?
Q2.
What if any quality problems during the guarantee period?
A2.
We can provide free technical support and software upgrades.
Q3.
Can we print my Logo on the products?
A3.
Yes, you can.
We support OEM.
Q4.
What's your delivery time?
A4.
Within 3-10 working days after receiving your full payment.
Q5.
How many kinds of payment terms do you have?
A5.
We accept T/T, West Union, Paypal, and others.
Q6.
What should I do if I don't know how to use the machine?
A6.
We have an operation video and user manual for your reference, and also we provide you 24 hours online service.
Q7.What are
your transportation modes?
A7: We can transport the goods by air or by sea, it will be based on the customer's requirement.
Your cart is currently empty.